A Messy Cubicle Can Be Counterproductive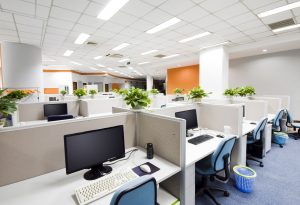 Many businesses today use cubicles to create workstations for their office employees. Cubicles aren't as big as full-size offices, but they can be highly efficient, especially if there are a lot of employees to accommodate with work areas.
One of the biggest benefits of cubicles is their size. Because they tend to be small, they need to be organized. While clutter will decrease productivity in any type of office, it is especially difficult for cubicle workers because it can literally get in the way of their work.
Cleaning Services in Fort Myers — Cubicle Clutter
One of the most recent beneficial developments that significantly improves cubicle workflow is the move toward digital document storage.
Very few companies today keep physical, paper documents like invoices, receipts, reports, and other important written items. It's much faster, easier, and more convenient to store documents digitally because they can be accessed, modified, and sent instantly and from anywhere in the world.
While digitalization of documents has made most cubicles more efficient and orderly, other types of clutter can still get in the way of productivity. This is especially true when multiple workers share the same cubicle.
Cleaning Services in Fort Myers — Cleaning Cubicles
Even a little clutter is too much when space is limited in cubicles. Garbage cans need to be emptied regularly. Debris needs to be thrown out. Smudges need to be wiped from computer screens. Keyboards need to be cleaned and sanitized to prevent the spread of germs.
Keeping cubicles neat, clean, and orderly can also make workers more productive. Working in an area that needs to be cleaned doesn't stimulate creativity or inspire workers to their fullest potential.
If your cubicle office needs regular cleaning, Silvana's Touch Cleaning has the experience and expertise to keep your office running right. Call today for your free estimate.