Commercial Cleaning in Fort Myers FL
Commercial Cleaning in Fort Myers Fl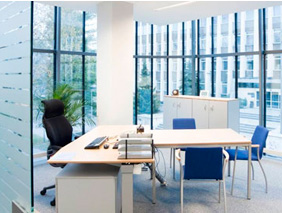 When it comes to commercial cleaning in Fort Myers FL, it's sometimes hard to know what to expect.
That's because so many other cleaning companies promise their clients the moon. But what they actually deliver often falls far short of what their clients expect.
But not at Silvana's Touch Cleaning. Since 2001, we have built our professional reputation as one of the most reliable and comprehensive commercial cleaning services by striving to exceed our customers' expectations with every visit we make.
Before we even begin our scheduled cleaning of your business or office, we will let you know exactly what to expect. And then we work to overdeliver on our promise each and every time we clean your business.
Commercial Cleaning in Fort Myers FL — The Silvana's Touch Promise
Unlike other cleaning companies that seek to cut corners, Silvana's Touch Cleaning offers commercial cleaning in Fort Myers FL that is aimed at impressing our clients with its intensity and professionalism.
We do more than just give your office space, retail store, or other commercial space the once over. The professional, experienced cleaners from Silvana's Touch go deep, cleaning surfaces and areas that perhaps have never been cleaned before.
Our goal is simple: We want to be your go-to commercial cleaning business for all of your cleaning needs. To accomplish this, we simply set out to exceed your expectations every time we clean your business.
Commercial Cleaning in Fort Myers FL — Reliable and Trustworthy
Most of the time, commercial cleaners are on the job when everybody else in your business is off work. This kind of lack of direct supervision can often lead to cut corners, jobs that are halfway done, and other shortcomings.
But not at Silvana's Touch Cleaning. Even when you aren't there, we provide the kind of thorough, intensive cleaning that you can rely on. And we never, ever cut corners or take shortcuts. Instead, we actually go the extra mile so that we exceed your expectations.
It's a formula for success that has served us well for more than 16 years. And it is what has helped Silvana's Touch Cleaning become one of the most respected and trusted companies for commercial cleaning in Fort Myers FL.
So, what do you say? Are you ready to be impressed by your commercial cleaning service for a change? If so, let's get started. Contact Silvana's Touch Cleaning for your free consultation today!
commercial cleaning in Fort Myers FL – www.silvanastouchcleaning.com